Want to get the most of your exhibition?
Get our whitepaper!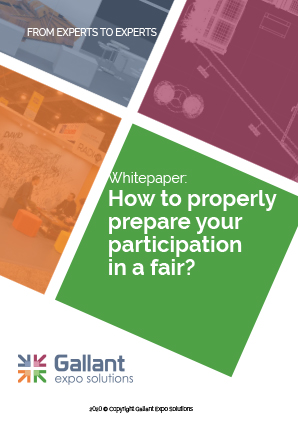 Download
Their very professional approach to exhibiting is clear and dedicated.

Lavaughn De Matas, Marcom Manager, Esaote

We can deeply recommend Gallant Expo Solutions, as a professional, reliable and solid supplier.

Dr. Claudio Lezzi, Commercial Operations Department, Corporate Strategic Marketing, Helsinn Healthcare SA

Gallant Expo Solutions is an A+ service provider from beginning to end of project and beyond.

David Wang, Sales & Marketing at Cameo China Tableware International-Canada Office

Their foresight, thorough experience and joy of living definitely make a difference in facilitating the whole trade show process.

Marketing and Communications team, Dental Wings

Their responsiveness, support and availability give us a peace of mind that is hard to find nowadays.

Dr. Tobias Kaupp, COO, Marathon Targets

They are consistent, creative and caring.

Lars Bjørn Rasmussen, Sales & Marketing Manager, Allied Biotech Corporation

The delivered stand met Ropack's high standards of quality and our trade show was a success.

Karine Archambault, Manager, Business Development – Canada

The attention to detail throughout each project is always spot on and I never have to worry.

Paul Scurrell, Managing Director, Timecode Systems Limited
Who we are

We are facilitators of exhibit solutions. Launched in tough economic times while companies must budget each penny spent for trade shows, we strive to be an ally for our clients.

What we do

We offer a full range of services, including exhibit design, manufacturing, logistics, transportation, installation and dismantling throughout the Americas and Europe.

Why choose us

Focused on partnership, we deliver efficient exhibit solutions that suit your needs and finances, by working closely with you throughout every step of your project. You benefit of 37 + years of experience without the costs of larger firms with heavy overhead.