Our philosophy is simple
Integrity

Our goal is to establish with our clients a long term relationship based on trust. Serving our clients with honesty and respect is paramount.

Courtesy

Nothing is more frustrating for a client than to be without news from his supplier. We promise to address your questions promptly and to assist you throughout the project, from delivery and beyond.

Design that works

We want to present you with an appealing design that will set your company apart. Our designs are attractive, simple and they work!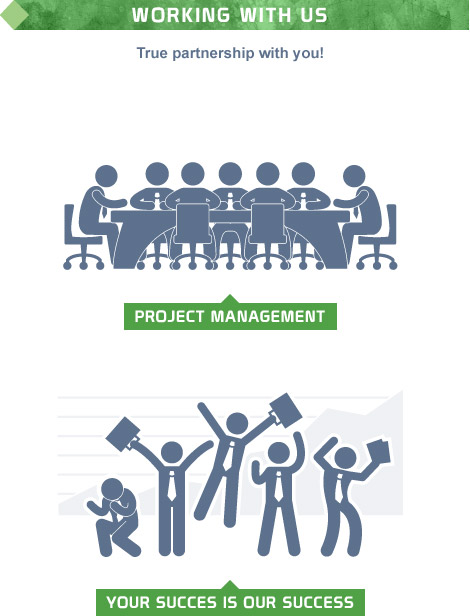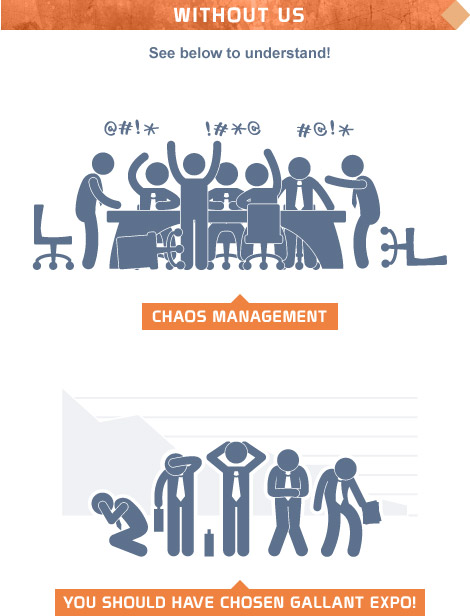 Our management team
Caroline Gallant

B.A. Industrial Design, Université de Montréal (co‑founder), Project Manager

Caroline started in the exhibit and trade show business 14 years ago, immediately following her studies. The trade show business continues to fascinate her to this day, as she works in developing new designs, managing projects and expanding business.

André F. Gallant

MBA, École des Hautes Études Commerciales (co‑founder and semi-retired), CFO

André has a background of 20 years in restructuring private and public companies for the purpose of making them more viable, well managed and profitable. He also acquired 27 years of experience as a project manager specialized in large and worldwide information technology projects, with clients such as IBM, Bombardier, CGI, Air Canada, Cirque du Soleil and Via Rail.

Francoys Tessier

B. A. Fine arts, Honours in scenography, Concordia University, Operations Manager

Françoys is a jack-of-all-shows when it comes to shows! He launched his career 33 years ago when he started setting up major rock shows. Then following his studies in theatre presentation set-ups, he switched to the trade show industry, in which he has been involved for the past 24 years. His work experience includes his position as Head of the Project Management Department for the former exhibit house known as Fedor Expositions.

Mouktar (Vadim) Tsoutsiev

Business Development, Russia and Commonwealth of Independant States

Vadim acquired considerable and significant experience as Chief Operating Officer in a Russian state company, on the Island of Sakhaline. He was also at the head of several other businesses in Russia.
Processus
Several ways to be of service. Hover your mouse pointer over the icons to see detailed descriptions.
Where we served our clients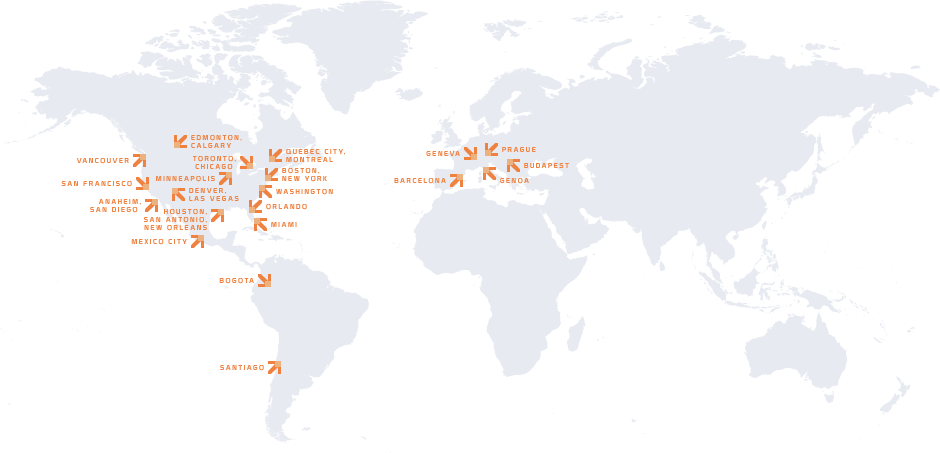 Goodies
10 tips for trade show success (reference: Exhibitor Magazine)
Have Fun!

If you're not enjoying yourself, your negative attitude
will become contagious

Be Approachable!

Avoid "pitch posture" such as arms crossed,
hands in the pockets and leaning on counters

Be a Greeter, Not a Guard!

Don't stand behind a counter or in front of the equipment on display. Stand off to the side.

Drink Plenty of Water

Avoid dehydration by consuming at least eight glasses of water per day to combat fatigue.

Avoid Radar Vision.

Don't immediately look at a person's namebadge.
It shows that you're trying to evaluate. Make eye contact,
greet and introduce yourself.

Avoid Clustering

Prospects tend not to interrupt two or more staffers
involved in a discussion.

Avoid "May I Help You?"

This greeting prompts a "No Thank You" reply.
Welcome them first and then find out their interest.

Smile, Smile and Smile Again!

When you smile you send a message to your body that you feel good and your attitude creates a positive impression.

Look Attentive

56% of the impression a visitor makes about the exhibit
is based on nonverbal body language.

Take Notes!

50% of what people say is forgotten in 60 seconds.
Make a note on a lead form of key comments.